We have two models cracking filling machine:GYGF500B and GYGF500T, Crack Filling Machine exists for filling cracks on the road surface, which is independently researched and developed by our company. This equipment is used to erase the cracks on the road surface to prevent the water from sinking into the base course which will speed up the crack propagation to form pits. This maintenance process will improve the road quality, prolong its service life and postpone the expensive heavy maintenance.
GYGF500B

Technical Parameters
| | |
| --- | --- |
| Generator set | 15Kw |
| Air compressor | 0.6m3/min |
| Burner | 1.0×105cal/h |
| Agitating motor | 0.75Kw |
| Discharging pump motor | 1.5Kw |
| Volume of sealant tank | 380L |
| Length of spray gun hose | 5.5m |
| Thermal oil volume | 200L |
| Matched truck | 3-5 tons load truck |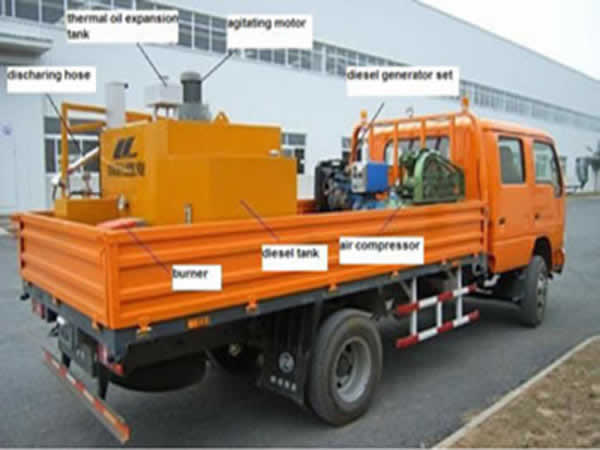 GYGF500TTechnical Parameters
Generator set
18Kw
Air compressor
0.6m

3

/min
Burner
1.0×10

5

cal/h
Agitating motor
0.75Kw
Discharging pump motor
1.5Kw
Volume of sealant tank
380L
Length of spray gun hose
5.5m
Thermal oil volume
200L
Trailer
PT-5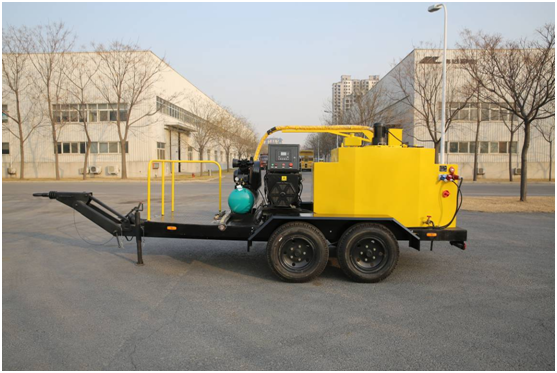 Performance Characteristics
1. Imported burner of the crack filling machine is applied to this automatically controlled machine for safe and reliable performance. Good fogging effect of fuel leads to low fuel consumption and low noise. Fuel and air make perfect matching to keep stable burning conditions, high burning efficiency and little pollution to the environment.
2. Sealant discharging volume is regulated by frequency converter. Sealant is pumped without delay to minimize wear of material pump and prolong its service life. Return suction solves the problem of drop pollution to the pavement.
3. Discharging hose is electrical heated to prevent sealant blocking the hose, light, convenient and flexible in use.
4. All the units of cracking filling machine for blowing, cleaning and heating are concentrated in one system. Long-life imported air compressor is applied with advantages of energy saving, low noise and long service life.
5. Sealant tank is heated by means of thermal oil indirect heating. Vertical shaft beats the materials 360 degree, which makes sure it is free of blinder corner and temperature is uniform for the purpose of avoiding partial scorching and aging. Automatic temperature control system and digital display system are applied to guarantee stable and precise control to the temperature.